Abella de la Conca is the perfect spot for exploring on foot. Surrounded by stunning scenery and an abundance of wild fauna and flora wherever you go will lead you along an enchanting and not easily forgotten path.  Because of the unique geography of the area its possible to walk in a different direction from the Refugi each day and encounter landscapes that feel very different from each other.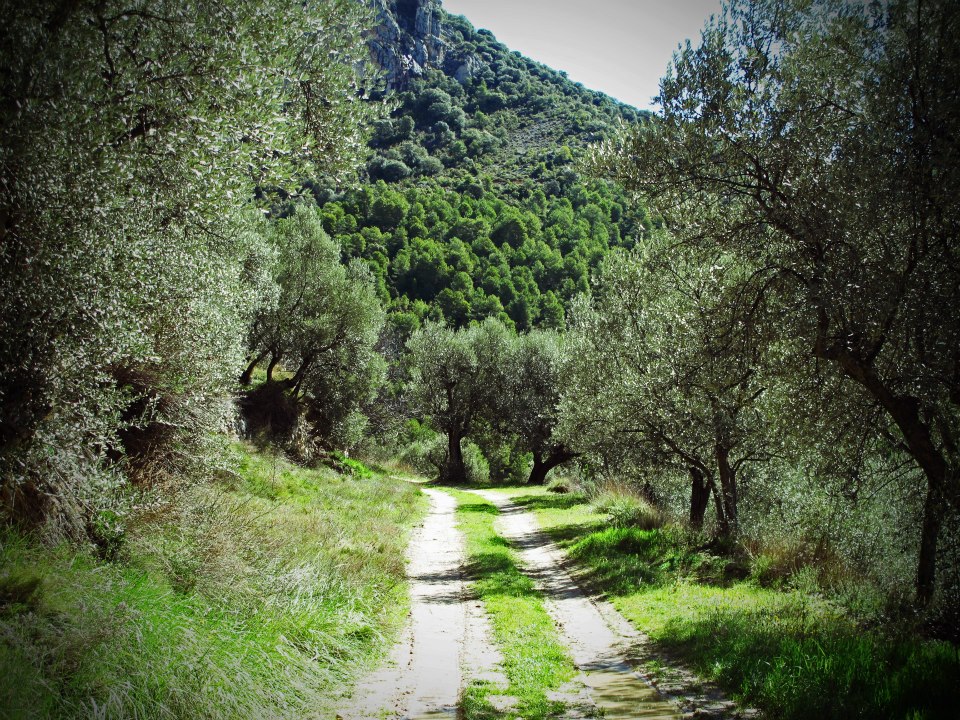 For example, one day you might chose to follow the Roman footpath down through the village terraces and ancient olive groves to the swirling, cooling rock pools that lie just below the village.  You can pause there for a few hours or continue through the river canyon and follow a beautiful forested trail through undisturbed pine trees to arrive at a stunning look out point with views back over the village.
Another day you may leave the village and follow quiet roads onto broad farming tracks with views over the almond groves and wheat field plains towards Isona and Tremp.  Following this direction you will arrive at the gateway to the Boumort National Park, home to the rare black vulture and much other wildlife.
Other trails will lead you up steep terrain to the Col del Trumfo at 1462m with spectacular views over nearby lakes to the snowy peaks of the Pyrenees in the distance or to the beautiful and secluded hermitage of Carranima where on a clear day you can see all the way to Montserrat.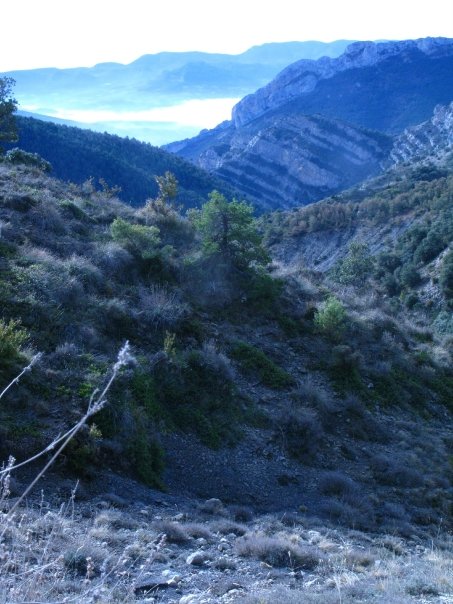 In essence there is something for everyone no matter how fit or agile.  Many local walks are circular and you can choose between long and short loops and gentle or steep terrain.  The one thing they all have in common is their incredible tranquility!
For those planning a longer trip you have even more opportunity to explore the well signposted and attractive trails in neighbouring areas.  The walk through the Montrebei Gorge in particular is not to be missed.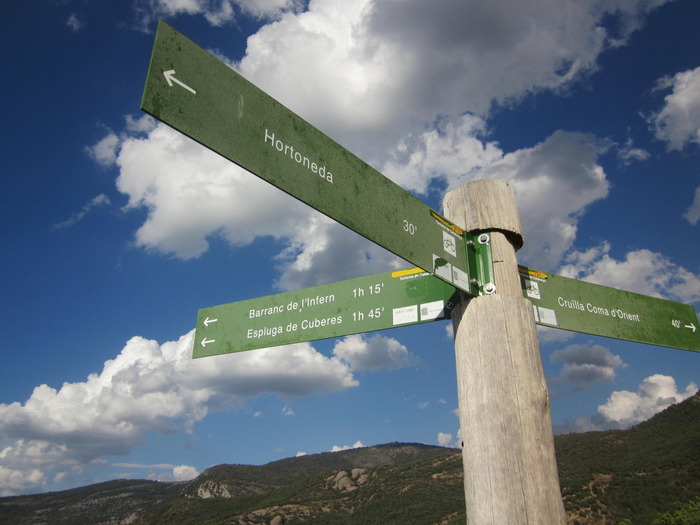 We have all the locals maps for you to borrow and go exploring and can provide information on good places to picnic on route as well as recommendations for exploring further afield.  And after a long day on your feet there is always the wood-fired sauna at the Eco-Refugi to steam away your aches!
Ground erosion and environmental damage caused by human waste are a serious issue in our rural areas.  Please help to keep these walks beautiful for everyone:
Stick to the existing paths and leave no litter or toilet paper behind
Use the toilet before you leave home
Ask at the Eco Refugi if you are caught short and need to use a toilet before you start your walk
Take a plastic bag with you and bag up and pack out your poo until you can dispose of it in an appropriate place
As a last resort – dig a hole and bury it (a hole 20cm deep otherwise animals may dig it up and about 70 adult steps away from water).
Under no circumstances should you burn your toilet paper. This is a serious fire risk!
For more information on how to safely dispose of human waste visit Trail Space