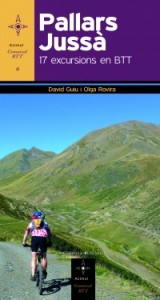 Abella de la Conca offers some great mountain biking on a variety of tracks through gentle pine forests and almond groves or up some steep and serious accents to stunning views of local lakes and distant snowy peaks.
Tracks passing through Abella de la Conca or close by can be found in the recently published guidebook (routes 1,2,5,6,7). The guide is available to borrow free from the Eco Refugi where you will also find detailed local maps to plan your own adventures.
There is a secure bike storage area at the Eco-Refugi.
If you would like to be guided to discover the area why not join in Aventure Nature Enduro 3 days  weekend to make the most of your time in Abella de la Conca http://pc-d-krypt.fr/dk2/sierra-de-montsec/
http://www.cossetania.com/pallars-jussa-1393
In wild areas please be careful to stay on established trails in order to minimize ground erosion and leave no litter or toilet paper behind.  Human waste is now a major issue whilst practicing outdoor activities PLEASE:
Use the toilet before you leave home
Ask at the Eco Refugi if you are caught short and need to use a toilet before, during or after your ride.
Take a plastic bag with you and bag up and pack out your poo until you can dispose of it in an appropriate place
As a last resort – dig a hole and bury it (a hole 20cm deep otherwise animals may dig it up and about 70 adult steps away from water).
Under no circumstances should you burn your toilet paper. This is a serious fire risk!
For more information on how to safely dispose of human waste visit Trail Space